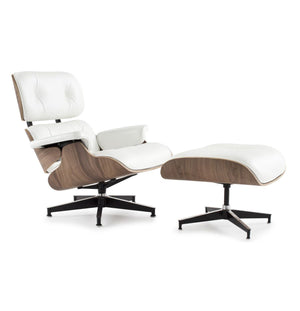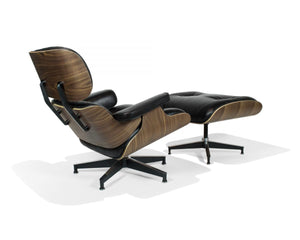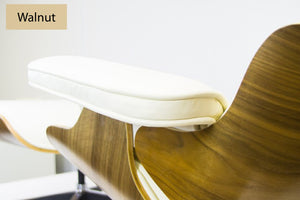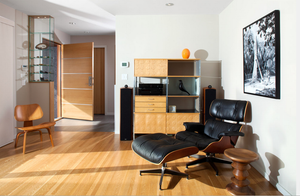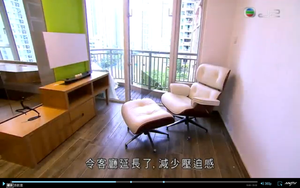 Eames Style Lounge Chair with Ottoman (Walnut)
This VetroHome Premium Version of the Eames Style Lounge Chair and Ottoman set has a perfect combination of high end style, comfort and practicality. It is well recognised for its soft, curved lines and stunning profile. The rosewood/ walnut wood veneer and black aluminium base combine to create a look that is organic yet industrial when paired with top/full grain leather buttons and piping.

Eames Lounge & Ottoman 可說是 20 世紀現代家具設計的經典代表,以三片壓模夾板分段製成頭靠、背靠及椅座,並藉著減震裝置(金屬+橡膠)與壓鑄鋁結構組合,椅墊外部採用真皮皮革來製作可拆卸椅套。
Eames Loung Chair 躺椅微微向後 15 度傾斜,五星型腳座不僅可旋轉、較低的椅座高度設計,讓你坐上躺椅時會忍不住把雙腳跨放在腳凳上,享受絕佳的舒適與幸福感!
Chair dimensions:
84cm W x 84cm H x 83cm D
Seat height: 40cm, armrest height: 50cm
Ottoman dimensions:
66cm W x 43cm H x 83cm D
Materials: 
Walnut veneer; Plywood frame;  cast aluminium base and fittings; Top grain leather (真皮)/ Import aniline leather (進口全青皮). 
Option:
Fully Assembled / Self Assembly (User Manual)

This is an order to made item, delivery time approx 20-25 working days.
此商品為訂貨商品,交貨期預計約20個工作天。